11 14
CKF Film Friday No. 13: The Obama Chronicles
More than a week has passed since Barak Obama was elected president of the United States. As historical and moving an event as that day was, we are still faced with a collapsing economy, polluting cars, CO2, and a global environmental crisis in slow motion. The world needs a leader, but I worry that the obstacles facing Mr. Obama are beyond any one person's ability to set straight (well, of course they are, but rhetorically at least we want our heroes to take on the biggest monsters or most Herculean tasks, and win).
Where does President-elect Obama stand on the big environmental issues facing us? Let's ask YouTube. This commercial promises a lot. How does it sit in the post economic meltdown, save the auto industry reality of today?
How about this playing up the super hero theme from ZapRoot:
Obama on February 25th, 2008 lists the top environmental issues facing the globe. "The next president can't be someone who tells you what they think you want to hear, but rather what you need to hear."
Obama on the Bali non-agreement and other policy positions regarding the environment:
[email this story]
Posted by Robert Ouellette on 11/14
Comment Here
(0)
10 31
CKF Film Friday No. 12: Investing In Green
This week's film Friday menu offers up some less emotional fare. OK, actually, it is really dry—but worth watching. I have dabbled in the green investment sector and in the last two months have seem my holdings drop by, well, too much. So maybe the topic is emotional after all. First is the U.K. video from Cantos TV: How to make green investments.
And from Clear Sky TV:
From the Green Business Summit we have that great Wall Street pariah T Boone Pickins (yes, that one) telling us how to invest in green. The irony doesn't escape me on this one, but, on the other hand, he does know the markets:
If you are still up to it, here is part two of Mr. Pickins.
[email this story]
Posted by Robert Ouellette on 10/31
Comment Here
(0)
10 24
CKF Film Friday No. 11: The Evils Of Coal
Crude Substitute: The Folly of Liquid Coal
Ready for some good old fashion "bait & switch" from the coal industry? Watch this video and be prepared for the next best thing from US energy producers. Can we reduce our carbon output by 80% in forty years? Not this way.
Here is something from britannica.com (yes that one) on coal produced acid rain.
Want to know what has powered China's industrial revolution? You guessed it. An "ill wind is blowing . . . to the US."
Al Gore on what new coal power generation must look like.
[email this story]
Posted by Robert Ouellette on 10/24
Comment Here
(0)
10 17
CKF Film Friday No. 10: The Carbon Tax Edition
Canada's Liberal Party lost votes (not to mention the election) this week when its much-discussed Carbon Tax proved too much for voters to support. In order to further flame the passionate debate, this week's Film Friday brings you the Carbon Tax story in video.
First, Al Gore on carbon taxes…
David Suzuki's take on carbon and taxes…
Kenneth Green on revenue neutral carbon taxes… Does he manage to sell the idea?
[email this story]
Posted by Robert Ouellette on 10/17
Comment Here
(0)
10 03
CKF Film Friday No. 9: What Happens To Our Old Computers Anyway?
First, "green" recycling done right.
Computer recycling done the wrong way.
Africa's digital divide.
[email this story]
Posted by Robert Ouellette on 10/03
Comment Here
(0)
09 05
CKF Film Friday No. 8: Lush Uses Performance Art To Save Sharks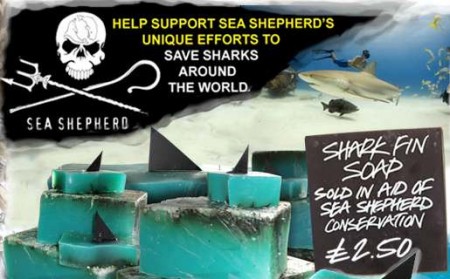 Humans have a capacity for destruction that is truly frightening, especially when we believe we will get something from it. For a while now a social meme has made the rounds that shark cartilage prevents cancer. Of course, this has as much basis in reality as Rhino horns enhancing virility. Still, millions of sharks are being killed every year to support the market demand created by this vague hope (not to mention the demand for shark fin soup).
Lush Handmade Cosmetics staged a performance art piece to support the Sea Shepherd Society. Run by activist Paul Watson, the group is raising awareness that this mindless destruction of another species must be outlawed. The destruction of a key component of the ocean's food chain will have consequences. Like global warming though, those consequences will take a while to manifest themselves.
Shoppers on Regents Street in central London likely got more than they bargained for this afternoon. In a dramatic illustration of how sharks are caught and killed for their fins, Alice Newstead, performance artist and former employee of LUSH Fresh Handmade Cosmetics, voluntarily had her skin pierced with actual de-barbed shark hooks and hung suspended from the ceiling in the window of one of LUSH's busiest shops for all to see.
Today's film Friday documents the Lush performance art campaign. Warning: If you are squeamish you might want to pass on viewing this video.
[email this story]
Posted by Robert Ouellette on 09/05
Comment Here
(2)