05 23
CKF Film Friday No. 1
Today kicks off Corporate Knight Forum's film Friday series. We'll try to collect in one place the most interesting environmental films and videos from around the Web so you don't have to.
Blue Man Group
Earth Activist
Fox News Attacks The Environment (You've got to love main stream media)
Padagonia goes green.
[email this story]
Posted by Robert Ouellette on 05/23
Comment Here
(0)
05 20
Earth Systems Bake As Planet Heats Up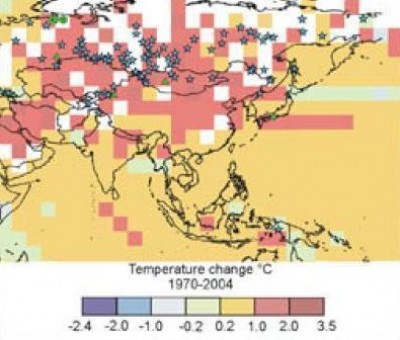 Unless you are a card carrying Republican working for an international oil company, there is no avoiding the reality of this news.
"Humans are influencing climate through increasing greenhouse gas emissions, and the warming world is causing impacts on physical and biological systems attributable at the global scale," said lead author Cynthia Rosenzweig, scientist at the NASA Goddard Institute for Space Studies last week. In what has to close the final chapter in any U.S. policy-maker's handbook of denial, NASA is now fully standing by decades of research showing the extent of how human activity impacts the earth.
Symptoms of the earth's warming range from glacial melting, to earlier bird migration, and hotter oceans. The news is especially troubling for North Americans: the patterns of change here are strongest.
Symptoms in North America



Earlier spring plant flowering 89 species (examples: American holly, sassafras, box elder maple) in Washington, D.C. area; earlier flowering in Boston, Massachusetts.


Cannibalism and declining populations among polar bears in southern Beaufort Sea.


Rapid melting of Alaska glaciers.


Earlier breeding and earlier arrival dates of birds (American robins are arriving 14 days earlier in Colorado).


Shoreline retreat in southern Gulf of St. Lawrence.


Advancing spring flight of butterflies in lowa and California.



Change in mollusk poulations in Monterey, California.


Earlier high river flows in New England.


Earlier peak migration of Atlantic salmon in New England.


Earlier breakup and later freezing dates in lake and rive ice over wide areas.


Declining mountain snowpack in the West.


Earlier streamflow timing across the West.


Changes in diatoms in northern Canadian lakes.


Genetic shift in pitcher plant mosquito to more warm-adapted type in Eastern U.S.


Marmots are emerging 38 days earlier in the Rockies.


Frogs (including the bullfrog and the American toad) are calling earlier in Ithaca, N.Y
[email this story]
Posted by Robert Ouellette on 05/20
Comment Here
(0)
05 17
Toronto's Harbourfront Nets Surprising Fish Installation
When I was a kid my grandfather took me fishing along the shores of Lake Erie. The shallowest of the Great Lakes, Erie then supported a sizable fishing industry out of harbours like Port Stanley and Port Burwell. No longer. Most Ontarians today wouldn't know the difference between a salmon and a pike, but two Toronto artists want to change that. They want your kids to enjoy the natural abundance the lakes once offered and could again.
If you haven't taken the time to visit
Toronto's Harbourfront
this spring the holiday weekend provides a perfect reason to pack up the kids, jump on a streetcar, and come down to the York Quay Gallery to take in the FishNet experience. You won't regret it.
The show's creators,
Angela Iarocci and Claire Ironside
describe it this way:
FishNet: The Great Lakes Craft and Release Project is a two-part project comprised of a craft phase and a release phase, transforms textile fish into real fish. Led by Toronto-based designers Claire Ironside and Angela Iarocci, the project is now on display at the York Quay Gallery, Harbourfront Centre from May 3 to June 22, 2008.

The heart of the crafting phase centres on 25 Toronto based schools each building a regionally specific school of textile fish and researching their species as part of their classroom curriculum.The release phase occurs when Harbourfront Centre, acting metaphorically as a fish hatchery, sponsors the 'release' of the crafted textile fish, an activity which will ultimately underwrite fish habitat restoration and restocking programs in the Great Lakes.

FishNet is to be presented to the public in a variety of forms including a project web site, classroom activities, a public exhibition, and as an invitation to other schools within the Great Lakes bio-region to undertake similar projects. When complete, the project will have combined and coalesced the creative talents of approximately 2,000 students, educators, artists and designers for the purposes of exploring and engaging in the multiple themes of sustainability, collaboration and activism.

FishNet identifies absence or neglect as the creative basis for a subtle form of protest art—one that provokes an engaging solution while strengthening the ties that bind us as a community living within the Great Lakes bioregion and beyond.

FishNet has received grants from Harbourfront Centre's Fresh Ground new works and the Ontario Arts Council, Arts Education program. Additional financial support has been provided by the Toronto District School Board and Inner City Angels.

Please come to Harbourfront and support the project by releasing a fish. For more information go to http://www.projectfishnet.org.


[email this story]
Posted by Robert Ouellette on 05/17
Comment Here
(0)
05 13
Will The Great Lakes Be Another Aral Sea?

The Aral Sea, 2006. Now one-half its original size and hopelessly polluted.
Given that Canada is the land of glacier-fed streams, and (relatively) clean water, it is hard to imagine the Great Lakes being great no more—but it is possible. Just take a look at the Aral Sea in Kazakhstan and Uzbekistan for an example of what havoc exploitative policies can cause on a seemingly robust ecosystem. We tend to think such savage exploitation will never happen here, but we also thought the Cod Fishery would go on forever, and Passenger pigeons were so plentiful that we could kill them at our pleasure.
The truth is, we are opportunistic creatures who can rationalize just about any travesty as long as there is a short-term dollar to be had, or an economic advantage to be gained. To compound a bad situation, when it comes to the environment time is our enemy, and not for the obvious reasons. No, time lets us forget what once was. Like the proverbial frog in a slowly warming pan of water, our condition is always relative to what we remember with accuracy. SInce most of us seem to suffer from advanced Alzheimer's when it comes to remembering the natural environment, will that be frog's legs anyone?
That's why when the Great Lakes Compact was made between provinces and states bordering the Great Lakes it seemed that rational thought and long-term preservation of natural resources might actually win the day. But wait: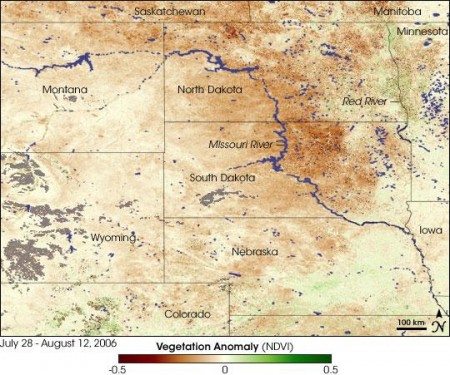 Vegetation was faring worst along the Missouri River through North and South Dakota, but below-average vegetation conditions stretch across parts of Montana, Wyoming, Colorado, northwestern Nebraska, and Minnesota as well. The plains of Canada's Saskatchewan and Manitoba provinces were suffering drought, too.
The drought of 2006 swept across North America's Great Plains sucking water from the soil and threatening to bring back the "dirty thirties" or worse to the world's supposed bread basket (or is that now the world's ethanol tank). Just take a look at the map above. Turns out the Wisconsin borders Lake Superior and Lake Michigan. Guess what state was unable to ratify the Great Lakes Compact. You guessed it. With all that water just sitting there, why should neighbouring farmlands have to go without?
You can hear the trumpeting now. "This is a national emergency." "We must have the water for short-term relief." "The have states must share with the have nots." I have no doubt that's what the bureaucrats managing the Aral Sea once said. But since they are all dead now, who is to know—or care? It is history, just like the Cod.
[email this story]
Posted by Robert Ouellette on 05/13
Comment Here
(0)
05 09
Canada's GreenDex Ranking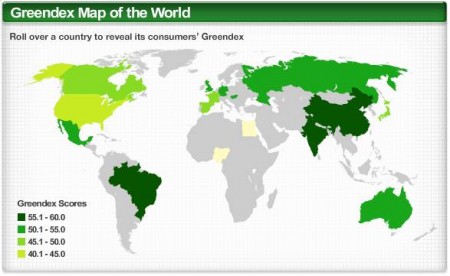 The National Geographic Society released a green index that ranks countries based on the sustainability. The bad news: Canada is among the worst (and will continue to decline as we ramp up our oil sands processing on the way to becoming an "energy super-power"). But the Greendex does not focus on governments and industry, it zooms in on what consumers in those countries are doing ranking them accordingly.

The findings show that consumers in Brazil and India tie for the highest Greendex score for environmentally sustainable consumption at 60 points each. They are followed by consumers in China (56.1), Mexico (54.3), Hungary (53.2) and Russia (52.4). Among consumers in wealthy countries, those in Great Britain, Germany and Australia each have a Greendex score of 50.2, those in Spain register a score of 50.0 and Japanese respondents 49.1. U.S. consumers have the lowest Greendex score at 44.9. The other lowest-scoring consumers are Canadians with 48.5 and the French with 48.7.
And the details of what we do wrong?

They have larger homes and are more likely to have air-conditioning.
Generally own more cars, drive alone most frequently and use public transport infrequently.
Least likely to buy environmentally friendly products and to avoid environmentally unfriendly products.
U.S. consumers scored worse than those in any other country, developing or developed, on housing, transportation and goods. They are by far the least likely to use public transportation, to walk or bike to their destinations or to eat locally grown foods.
They have among the largest average residence size in the survey. Only 15 percent say they minimize their use of fresh water.
For more information on how we are really bad stewards of our environment, download the complete PDF.

[email this story]
Posted by Robert Ouellette on 05/09
Comment Here
(0)
05 07
Nature Protects Better
Bangladesh's Sundarbans mangrove forest
Remember when Katrina decimated New Orleans? Some scientists argued that the destruction of nearby swamps in the Mississippi delta took away an effective storm surge barrier and, well, you saw the results. The problem with man-made barriers is that they are only as strong as their weakest link. A section of canal wall fails and it is so-long Ninth Ward. Yet we continue to remove natural barriers like swamps and mangrove forests.
This week's typhoon in Myanmar provides another warning to developers everywhere: remove natural barriers to storms at your own risk. According to a BBC report deaths caused by the storm were directly related to the loss of Mangrove forests that grow in salty marshes all over the world.

"Human beings are now direct victims of such natural forces."
His comments follow a news conference by Burma's minister for relief and resettlement, Maung Maung Swe, who said more deaths were caused by the cyclone's storm surge rather than the winds which reached 190km/h (120mph).
"The wave was up to 12ft (3.5m) high and it swept away and inundated half the houses in low-lying villages," the minister said. "They did not have anywhere to flee."
Researchers from IUCN, formerly known as the World Conservation Union, compared the death toll from two villages in Sri Lanka that were hit by the devastating giant waves.

The 2004 tsunami prompted a series of mangrove replanting projects
While two people died in the settlement with dense mangrove and scrub forest, up to 6,000 people lost their lives in a nearby village without similar vegetation.

When 300,000 people in Bangladesh died in flooding there, the country instituted a policy to let the mangrove forests of the Sunderbans forest grow into a natural storm barrier protecting the low-lying nation. Global warming makes mangrove barriers more important as sea levels continue to inch upward.
[email this story]
Posted by Robert Ouellette on 05/07
Comment Here
(0)
05 01
Is Ontario A Have Not Province?
Let's face it. We were all a little bit shocked when the Toronto Star
announced yesterday
that Ontario was now a bit player in the Canadian provincial hierarchy.
"Ontario is not the mighty king of the economy any more," said TD's chief economist, Don Drummond, predicting the province could get $400 million in 2010 and $1.3 billion the following year.

"It's one of the weaker partners, but again it's not so much Ontario's being weak as the other provinces are really roaring along."

The report noted that one traditional "have-not" province, Newfoundland and Labrador, is about to join the "have" club, thanks to revenues from offshore oil and gas production.
There is the argument neatly summed up by one of the Country's more respected economists. Unless we are either pumping oil or making cars for some other country's automobile sector, we are nothing. Well, I don't buy it. Rather than wail that the sky is falling, in a quarterly driven profit and loss blinkered vision of reality, why not use this obvious sign that industry is changing as a reason to revamp our economy and prepare to take on the real big "NEXT" markets?
We all know what they are. I wasn't surprised to read a few short weeks ago that the German industrial sector has made a few good deals buying up Canadian environmental technology companies and relocating them to Europe. Some European countries are literally changing their landscape because of an economic shift to sustainable, knowledge-driven industries.
What about this picture don't our policy makers understand? Big cars pollute, cause global warming, and use too much of a non-renewable commodity. Plus, no one in their right mind wants them now except as a symbol of conspicuous consumption that would make
Thorstein Veblen
blush.
Still, here we are bemoaning the fact that people aren't buying enough obsolete car designs, and our smokestack industries are failing. Come on! We've predicted this failure for a generation and a half. That it seems to surprise government should be a warning sign to the electorate: Why can't our elected representatives think outside of the short term and plan for the future?
Change is good. Change usually involves short to mid term pain. If we are going to experience that pain anyway—as a have-not province—let's make something out of it. Let's build an economy for tomorrow's markets using the best of today's ideas—you know, the ones that far-seeing countries are buying up from under us. Then when residents of other provinces can't breath because they've burned up so much fossil fuel to convert sand to oil, we'll have clean air, livable cities, and an economy with a future.
[email this story]
Posted by Robert Ouellette on 05/01
Comment Here
(0)