11 24
Does Frank Herbert's "Dune" Predict Today's Geopolitical Environment?

Loewen and Partners launched its guest speaker series at the National Club last month with Dr. Michael Power's talk, "The Great Game of the 21st. Century."
Dr. Power is a portfolio manager and equity strategist at Investec Asset Management. Working in South Africa, Dr. Power is a long time specialist in the African resource market. His talk Wednesday night explored how the 19th Century geopolitical struggle named, "The Great Game," has returned to today's Asia.
The difference today is rather than China and India being subjects of colonial powers, they are emerging super powers—the so-called Chinese Dragon and Indian Tiger. And they are beginning to flex their muscles. Dr. Power predicts that in less than ten years these countries will rival western economic performance. To support their exponential growth, both have engaged in a strategic pursuit of natural resources. That search has come to Africa and that continent is about to emerge as a resource powerhouse. Is Canada next?
Power draws some parallels to Frank Herbert's science fiction novel, "Dune." If you haven't read it, well, now is the time to pick up the trilogy. Herbert's forty year old description of a universe driven by the dominance of one scarce resource, "spice," predicts many of the geopolitical dynamics now facing the western world. Think O-I-L in the place of spice here, but also steel, copper, gold . . .
For commodity market managers these predictions suggest that the current downswing in the resource market is a minor retreat in what will be a prolonged and sustained bull market. Don't forget politics though. WiIl the US stand by as the world's resources are locked up by its economic partners? That is unlikely and recent activities in Iraq and Afghanistan may well have more to do with the "new" great game than with the defeat of global terrorism.
[email this story]
Posted by Robert Ouellette on 11/24
Comment Here
(1)
11 23
Laneway Homes To Save Energy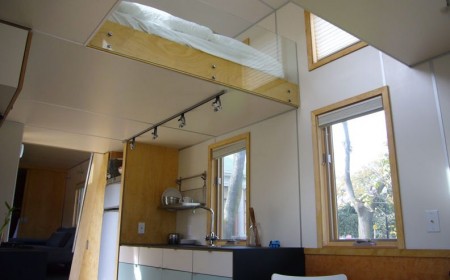 When architects Bridgette Shim and Howard Sutcliffe decided that Toronto's back lanes were a design opportunity, they had to spend years convincing the city that laneway homes should be part of our urban fabric. After all, Toronto decided it had to intensify its core. Laneway homes offered one way to do that.
At the time, our city's moribund regulatory environment stifled innovative architecture. Toronto's planners and politicians received a gentle nudge from the two local architects, changed and the city is better for it.
Skip ahead a decade or so. Laneway housing is an entrenched part of our city. It works well. However, as Shim and Sutcliffe can confirm, changing the city's policies did not come easily.
Today, we need innovative land use policies more than ever. Look, for example, at the Ontario Liberal government's decision to build a gas-fired power plant downtown. Instead of using energy wisely, it promotes more consumption.
And, according to some critics, it creates a tipping point. They argue the plant's additional contribution to airborne pollutants will increase the rate of illnesses and cause deaths. In 2005, Toronto suffered through about 50 smog days. Get ready for more.
What can government regulations do to make the city healthier to live in? Encouraging energy-efficient buildings is an important step, but the lead time on new office complexes is long and it appears this generation's condominium tower buildup is just about over. Toronto will just have to live with the big buildings and work to retroactively make them more energy efficient.
Fortunately, there is an option that is energy efficient—and we can start implementing it today. Sustain Design Studios's miniHome is CSA-approved, and production can accommodate 1,000 families in a year. That is, if our regulators are forward-thinking enough to allow it.
Architects Andy Thompson and Lloyd Alter of Sustain Design are dedicated to creating and selling well-designed, energy-efficient housing. How efficient? A family of two adults with two small kids can live a year in one of their miniHomes and consume the total energy equivalent of about $200 in propane. Theirs may be the world's "greenest" mass-produced dwelling.
With built-in solar panels and a small wind turbine to generate electricity, the miniHome does not require hookups to the electrical grid. It also has tanks for fresh water and waste water so it can, if needed, be independent of the city's water and sewer system. Other refinements include a "green" roof that reduces the need for air conditioning. The one problem: Where do we put them?
This takes us back to Toronto's laneways. In many neighbourhoods, long lots back on to viable laneway streets. Shim and Sutcliffe proved that those lots can be subdivided to make room for new housing. Imagine if the city were to decree that miniHome-like solutions could use those lots. In one step, we would create communities of sustainable housing on otherwise underperforming land.
Right now, the city and province have regulations that will not allow this type of low-energy home. There are a number of reasons why. Some have to do with building codes and others are planning related. Given an increasingly fragile environment, all cities will sooner or later have to change their building policies. We can plan for that change or react to it. The choice is ours.
This story also published in today's National Post
[email this story]
Posted by Robert Ouellette on 11/23
Comment Here
(0)
11 22
World Biospher Reserves: The Niagara Escarpment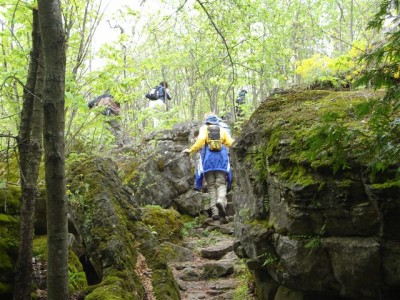 Posted by Cathy Schaffter
Did you know that the UNESCO World Biosphere Reserves include: the Ayers Rock region, the Central Amazon, the Mojave & Colorado Deserts --- and the Niagara Escarpment. There is more—Great trails of the world include: the Appalachian Trail, Santiago de Compostela, Hadrian's Wall, the West Coast Trail --- and one lying an hour west of Toronto along the Escarpment from Niagara to Tobermory: The Bruce Trail.
Yet, incredibly, most Torontonians aren't aware of these genuinely `world class' attractions in the city's backyard!
Maybe an experiment that happened this fall in the heart of downtown condo developments --- on Spadina Avenue by Clarence Square at Wellington Street --- will finally waken Toronto to some true bragging rights.
On Sept. 17, Sept. 24 and Oct. 29, and at 9 am on Nov. 19, 25, and 26, this year, volunteers of the Toronto Bruce Trail Club ran a day-trip bus hikes to the wilderness.
For years, the 4,000+ Toronto members of the environmentalist Bruce Trail Association have been working to link Torontonians with the beauties of the Trail --- and to gain new members for the cause of preserving the Escarpment from development and rampant quarrying.
Bus hikes leaving from the York Mills and Islington subway stations have long allowed carless Torontonians to enjoy easy walks (Level 1 hikes) or four-hour workouts (Level II hikes) in the country.
The club is now hoping that the convenience of hikes originating from within walking distance or short streetcar rides of the burgeoning population of the deep downtown will attract many more hikers and environmentalists. (Note for fashionistas: With skinny jeans and leggings making toned legs and butts critical, there's nothing like a Level II hike to noticeably tighten every relevant muscle! And the view from a hiking trail is infinitely better than from a Stairmaster.)
Sarah Harmer (named in Newsweek's July 17 issue as the natural successor to Joni Mitchell) is a superb articulator of what the BTA is fighting for. On April 13, she inspired the Los Angeles Times to note the Trail and Escarpment from afar:
Canada's rugged and rocky Bruce Trail is reputed to have inflicted more blisters and aching feet than any other hiking path in North America, but for Sarah Harmer the physical challenge of the hike was secondary to its symbolism. The 35-year-old singer-songwriter used it to prepare for the recording of her third and most recent solo album, "I'm a Mountain," which is themed around a threatened portion of the land upon which the trail sits.
`"I spend so much time driving and going to shows and being in a van and not seeing enough details in those places, and I thought, I can do a walking tour on the Niagara Escarpment," said Harmer, who spent two weeks last summer hiking a portion of the Escarpment's 480-mile Bruce Trail with her band, performing the folk and bluegrass songs that would eventually become "I'm a Mountain."
"Escarpment Blue". tells the true story of a quarry's recent bid to expandits operations into Escarpment farmlands - farms that border the land Harmer grew up on and on which her parents still live."Salamandre," a children's folk song Harmer sings Edith Piaf style.involved research to show that the land the quarry is seeking is also the habitat of the federally endangered Jefferson salamander.'
Looking forward to posts from people trying out the first Clarence Square hike.'
[email this story]
Posted by Robert Ouellette on 11/22
Comment Here
(0)
11 21
Carbon Payback's A Bitch - Or Is it?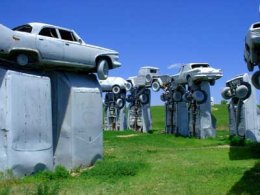 Image from http://www.futureenergy.org
We all know it. Our Western lifestyles are slowing choking the planet. But the problem is so vast and complex that we as consumers often have no idea of how to make things better. Recycling helps. Taking public transit works too. Sooner or later, though, we all seem to get on a plane to go one place or the other. The Seattle Post Intelligencer ran a story yesterday on what consumers can do to reduce their carbon footprint while waiting for new green technologies to come online. The answer? Buy back your pollution.
Buying carbon offsets sounds suspiciously like something futures traders indulge in, and indeed it is, but it may just be the way consumers can lessen their impact on the environment.

Corporations of all types are getting involved. For example, Seattle non-profit NetGreen has joined with local real estate companies to offer "carbon-neutral mortgages," billed as the first of their kind in the country. For $180 per year, homeowners can offset the pollutants generated from heating the house.

Recently, Bellevue-based Expedia.com began allowing consumers to "fly green" at $6 for a short flight to $30 for international travel.
What does it cost to offset an entire life's worth of CO2? $4,000. Priceless.

[email this story]
Posted by Robert Ouellette on 11/21
Comment Here
(0)
11 20
Enviro-Tower: Saving Water And Electricity

Problem
There's a high demand for A/C in large buildings. That requires cooling towers, which are severe water polluters and greedy energy users.
• Cooling towers across North America use 230 billion kwh of energy
• Cooling towers flush out 635 billion gallons of water per year
Water cooling towers perched atop large buildings are the biggest sources of toxic discharges that end up in municipal sewer systems. This past summer, a small outbreak of Legionnaire's disease was linked to emitted bacteria from cooling towers in downtown Hamilton, Ontario. Legionnaire's disease is a potentially serious illness caused by airborne legionella bacteria, which are commonly found in cooling towers.
Up until recently, a chemical cocktail that includes hydrazine, polyoxypropylene, specialty acids, and biocides was the only weapon that systematically combated microbiological contaminations like legionella bacteria. It was also the only defense against scaling, fouling and corrosion in cooling towers.
Solution
EnviroTowerTM uses electrostatic physical water conditioning technology to keep water cooling towers running smoothly without the use of chemicals. It also uses 25 per cent less energy than other systems and reduces operating costs by up to 30 per cent.
The EnviroTowerTM system includes a physical water conditioner, which eliminates scale and inhibits fouling and corrosion, a separator that captures and discharges particles created by the conditioner, and a mineralator that adds suppressants to further control corrosion. The Embassy Suites Hotel overlooks on of the largest sources of hydro power on earth - Niagara Falls.
EnviroTowerTM was installed in its cooling towers to eliminate the scale that had built up over just six months of use. After the first cooling season with EnviroTowerTM, there was no visible scale or fouling. The technology is sprouting on other rooftops in Canada, including the TSX building. The company recently added Zenon Environmental whiz Rafael Simon to its board.
Potential
If all cooling towers across North America were updated with EnviroTowerTM, it would save 160 billion gallons of water a year, and 57 billion kwh—roughly equivalent to the power used by all the homes in Ontario - would be returned to the grid.
[email this story]
Posted by Robert Ouellette on 11/20
Comment Here
(0)
11 17
Earth Rangers
A friend invited me to attend a ROM "Behind the Scenes" evening this week. People who go to these evenings include some of the museum's financial supporters (clearly, I am not one of them although if I had an extra million or two to spare this is a worthy cause). The approximately one hundred attendees get divided into smaller groups of ten. Those, in turn, are assigned members of the ROM's curatorial team who take the guests to their research area of the museum. I ended up with the earth sciences team. They are the ones who look at rocks and, of course, crystals.
This is one of the ROM's collection of crystals. If it were white . . . could it be the model for the new building? The staff giving the tour were, to say the least, knowledgeable and also charmingly awkward in their role as tour guides. They are the researchers who make this institution of the the world's best so it was a privilege to be able to ask them questions. For example, did you know the ROM has Mars rocks? How do they know they are from Mars? No space craft has ever returned from that planet with a cargo of rocks. That was one of the questions. Know the answer? I didn't.
One our our groups members included an older gentleman who while generally quiet and unobtrusive asked short but concise questions. He had an air about him. Turns out this man just donated $12 million to the ROM for a worthwhile project:

The Schad Family Gallery of Life in Crisis at the ROM will be developed in parallel to a new exhibit at the Earth Rangers Centre in Vaughan, Ontario, focused on solutions to the biodiversity crisis. Together, the ROM Gallery and Earth Rangers exhibit and related joint programs will provide a comprehensive picture of the vast extent of life's diversity, the processes which drive speciation, and the significant threats and challenges to biodiversity, as well as individual actions and solutions…

Robert Schad is the founder and chairman of Earth Rangers, a partnership-driven environmental charity established in 1999. Its mission is to inspire children with a lasting passion to build a better future by leveraging the affinity that young people have with wildlife and the environment to develop leadership and citizenship skills. Mr. Schad is also the founder and a Director of Husky Injection Molding Systems Ltd.
This image was taken in the Earth Science's research area. People who work at the highest levels of formal science tend to have an informal casualness that this image captures.
[email this story]
Posted by Robert Ouellette on 11/17
Comment Here
(1)
11 16
A Green Power Corridor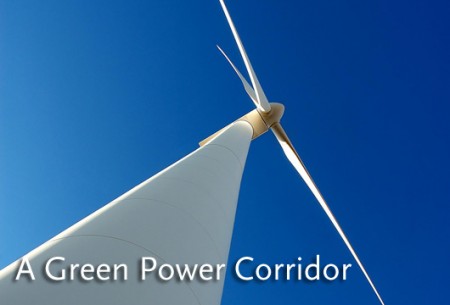 by Toby A.A. Heaps (First published in the October edition of Corporate Knights Magazine)
How we can quench our thirst for energy and break our addiction to fossil fuels.
When Amory Lovins, the Colorado-based energy efficiency guru and chief executive of the Rocky Mountain Institute, learned that Ontario plans to plough $40 billion into nuclear power, he blew a gasket.
Download the pdf of the full article, which includes photos and charts.
From an e-mail he sent to us (which we circulated to Queen's Park): "Nuclear power has died of an incurable attack of market forces and is way beyond any hope of revival. How can Ontario afford the most uneconomic, capital-intensive, long-lead-time technology?"
Still, the Ontario government is moving full bore ahead with plans to build two new nuclear reactors and refurbish up to half a dozen others.
What gives? Simple economics. Ontario is a power-hungry province and if nothing is done, demand will soon exceed supply. By 2025, the Ontario Power Authority estimates the province will need between 30,400 and 36,000 MW of power generation to meet peak demand times for a population projected to grow by 25 per cent, up from peak needs of 24,200 MW today. Ontario has a little over 34,000 MW at hand today, which seems enough to satisfy even the upper end of the OPA's estimated demand in 2025. But the problem is, previous NDP and Conservative governments did almost nothing to address Ontario's future electricity supply. As a result, most of Ontario's current power base will be decommissioned by 2025 and only about 12,000 MW of today's current generating capacity will be around by then (hydro, oil and gas, and one unit of Pickering A nuclear station). Interestingly, the renewables part of the provincial power portfolio seems to have the longest lasting power.
Ontario already has procurement initiatives in place for 9,520 MW, mostly from natural gas. That leaves a power gap of more than 10,000 MW on the horizon. Critically important is the fact that most of this gap is for base-load ['reliable power'] generation capacity, which the OPA says "... dictates the types of resources which must be used to meet this need."
'Dictates the types of resources' is a euphemism for 'pump up the nuclear.' Notwithstanding some initial political enthusiasm for energy conservation and new hydro and wind resources, Queen's Park's confidence in these resources as base-load supply has wilted. No wonder, when you consider the heat wave in July that drove Ontario's energy consumption (read 'air conditioning affinity') to a record 27,000 MW. Meanwhile, droughts reduced water flow to hydro facilities and—the straw that broke the camel's back—any MPPs driving past Toronto's landmark Wind Turbine at Exhibition Place could see the turbine blades hanging motionless, contributing absolutely no power to the grid. At the same time, the province was trying to woo businesses to relocate to Ontario and having a tough time answering questions like: "Where is my factory going to get MWs when you close the coal plants?" Energy-efficient light bulbs and wind turbines don't cut it for these guys.
The government's answer: Natural gas-fired plants, and a promise not to get rid of coal until enough nuclear base-load capacity has been brought online. That answer seems to have worked for companies like Linamar Corporation and Toyota Canada, which recently announced investments in Ontario totalling $1.9 billion, which will create 4,300 high-quality jobs.
When you adopt this mindset, a rational person might understand why the government decided to pump $40 billion down the old nuclear path.
But when you consider that this nuclear path is littered with 300 (...read more...)
[email this story]
Posted by Toby Heaps on 11/16
Comment Here
(0)