11 10
Streets Are For People, Cars Are For - Gardens?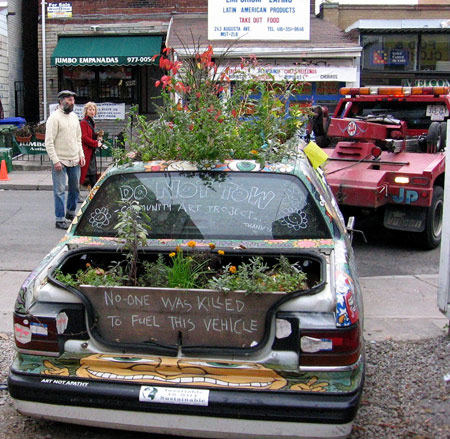 Yvonne Bambrick of Toronto's Streets Are For People emailed us with the news that the "Community Vehicle Reclamation Project" was moved from Augusta Avenue in Kensington Market, to its new home behind Segovia Meats.

People are welcome to visit her when the gate is open but should take note that there is a big dog that lives back there… you can peak over the fence from the Green P lot on Bellevue - head to the N E corner of the lot.
Streets Are For People is the group behind the very popular Parking Meter Party held in September. This is the image from their web site: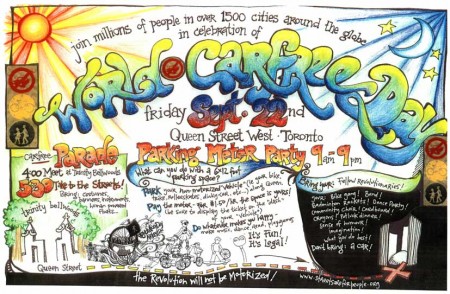 For groups wanting to put on their own parking meter parties, here are SAFP's tips:
Parking Meter Party Tips

FIND THE RIGHT SPOT. A business that you frequent, a bar or restaurant that knows you, can make for a useful ally. Pick a spot that suits your performance or action, ie badminton over a more narrow part of the street.

ELECTRICITY. Bands and DJs may need power. You can get a portable battery from Canadian Tire that last a good 40 minutes or so, (running a bass amp, guitar amp, and vocal amp.) Or you can sweet talk a nearby business to lend you power.

PARTNER UP. Make the spot a little festival stage, with rotating bands. This can help with gear sharing and reduce transportation efforts.

TRANSPORTATION. Stripping-down your band, or going acoustic can make it easier. Bike trailers can be borrowed from the Community Bike Network at Queen and Euclid.

MAINTAIN A SENSE OF HUMOUR. Some car drivers may get ornery and try to muscle in on your space. It's important not to get sucked-in to a confrontation. Simply smile and show them: your ticket - your space.

COPS. If they try to hassle you simply inform them, you've parked your vehicle, you've paid the meter, you are in compliance with the law. They have no right to discriminate against your choice of vehicle. NOTE: They may try to intimidate you into leaving even though you are not breaking the law. If they insist and threaten to arrest or ticket you, you can surrender your spot and move on, (no shame in that. Nobody wants to go to jail.) or we can get a good lawyer and fight the case out in the courts and push the legal issues of space for people vs space for cars. SMILE and be REASONABLE and RESPECTFUL and none of that should happen. (We've never had trouble at past parties.)

SPREAD THE WORD. Invite others to take adjacent spaces. Have flyers on hand to invite others to take part in the parade. You can pick up flyers at La Palette, 256 Augusta.

DOING BUSINESS. This is where it can get dicey and you could get shut down. If you want to busk or sell a product, be discreet. Setting up shop is a heat score. Artists and artisans, perhaps have business cards available and close the sale at a later date. Busking musicians - the open case usually works well enough. Comics, actors and dancers - passing the hat after each bit can do very well. Just keep an eye out for the Heat.

RESPECT the NEIGHBOURS. If you are doing a loud performance, let the shops know that it'll only be a half hour or forty minute set. If it's really loud, it's not cool to set up and play all day long, that only makes enemies. If another performer is doing a show right next to you, try alternating sets instead of going up (...read more...)
[email this story]
Posted by Robert Ouellette on 11/10
Comment Here
(0)
The Politics Of Green: Canadians Want Change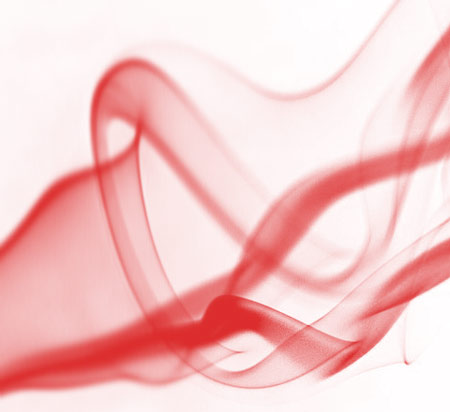 Recent surveys of Canada's political landscape turned up some interesting trends. Canadians, much to the surprise of the current federal government, are deeply concerned about the environment. In fact, the environment ranks a close second to health care as the topic we want political action on. Surprised? George Monblot writes in yesterday's Straight.com that Canadians rank among the worst polluters in the world:

So it's a shock to discover that there is scarcely a whisker of difference between Canada's greenhouse gas emissions and those of the U.S. and Australia. In Europe climate change campaigners are - as we should be - heartily ashamed of our nation's contribution to the destruction of the biosphere. In the United Kingdom, we each produce an average of 9.5 tonnes of carbon dioxide in a year. The Germans turn out 10.2 tonnes, and the French 6.8. But the Canadians emit an average of 19.05 tonnes a year - just 50 kilos less than the Australians and a tonne less than the Americans. While emissions across much of Europe are falling, in Canada they have been rising for over 10 years.
Because of its size and northern climate, Canada's consumption of energy trends above the world norms. However, we are also engaged in discretionary energy consumption like coal fired generators and tar sands processing that require burning vast amounts of fuel.
The only way to reduce those emissions is through regulatory action by all levels of government. Yet, the public mood for conservation of our increasingly fragile environment is not registering on their political radars. That has to change. Now that the pollution denying neo-conservative ideologues south of the border have lost their grip on power, our own conservative party is quickly rethinking its environmental position. Meanwhile, all Canadians wait expectantly for the revised energy plan the minority government is promising.
[email this story]
Posted by Robert Ouellette on 11/10
Comment Here
(0)
11 08
How Are The U.S. Green Funds Doing?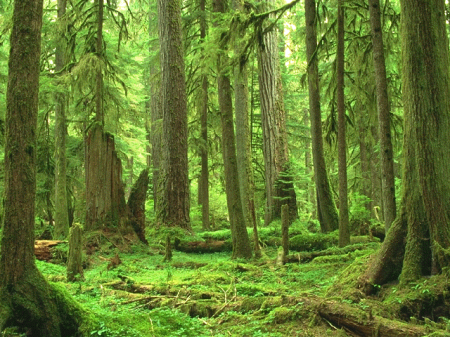 Washington forest photo from here . . .
Outside magazine has this review of U.S. based green investment funds. The punch linne is that the funds have outperformed the S&P 500 Index over the last five years.
SMART PICKS: MUTUAL FUNDS
1. Calvert Large Cap Growth Fund (clgax) Focus: Eco-savvy large-caps ($10 billion and up) Typical stock: Goldman Sachs, which promotes mandatory pollution reductions Five-year average annual return: 4.88% Minimum initial investment: $2,000 Expense ratio: 1.56%, with a one-time upfront fee of 4.75% of initial investment Net assets: $1.15 billion. calvert.com

2. New Alternatives Fund (NALFX) Focus: Foreign and domestic alternative-energy companies Typical stock: German solar-panel maker Conenergy Five-year return: 5.75% Minimum initial investment: $2,500 Expense ratio: 1.17% Net assets: $95 million. newalternativesfund.com

3. Portfolio 21 (PORTX) Focus: Small-cap clean-techs and large-cap companies with sustainability programs Typical stock: Swiss Re, a corporate leader in global-warming awareness Five-year return: 7.2% Minimum initial investment: $5,000 Expense ratio: 1.5% Net assets: $130 million. portfolio21.com

4. PowerShares WilderHill Clean Energy Portfolio (PBW) Focus: Small-cap clean-techs; holdings are identical to those on the WilderHill Clean Energy Index Typical stock: Canadian fuel-cell manufacturer Ballard Power Systems Return since March 2005 inception: 16.04% Minimum initial investment: $50 Expense ratio: 0.7% Net assets: $664 million. powershares.com

5. Winslow Green Growth Fund (WGGFX) Focus: Clean-tech and eco-savvy small- cap companies Typical stock: Zoltek, of St. Louis, a supplier of carbon fiber for wind turbines Five-year return: 8.2% Minimum initial investment: $5,000 Expense ratio: 1.45% Net assets: $290 million. winslowgreen.com
[email this story]
Posted by Robert Ouellette on 11/08
Comment Here
(0)
11 07
Advances In Solar Power Technology Announced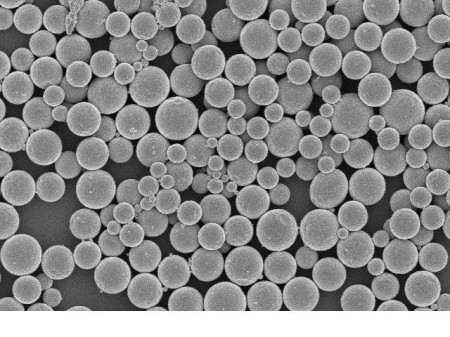 A picture of the Nanosolar solar cell thin technology.
The way Nanosolar Corporation explains it, the future of energy generation just may be clean and non-poluting after all. Nanosolar is at the leading edge of new generation solar cell technologies that do not rely on expensive silicon. In fact, their process is less than one-half the cost and only 1/100th the thickness of traditional solar cells. Even more remarkable is that Nanosolar power cells can be "printed" on flexible substrates allowing for rapid scale production.
The company's mission?

A Solar Panel on Every Building®—so that buildings everywhere will be hybrid energy buildings, synergistically switching between clean locally-produced solar energy (used during peak-time electricity usage hours just when electricity is the most valuable) and grid-delivered backend power (delivered in the evening or whenever the solar resources are not available).
Here is how they explain Nanosolar's breakthrough technology:

The ability to architect and assemble materials on a nanometer scale now makes it possible to optimize solar cells at the very length scale at which the relevant photovoltaic semiconductor quantum-physics occurs. Molecular self-assembly techniques for instance now give us the unprecedented capability of designing and creating nanostructured materials with novel properties. Such techniques generally rely on formulas that control the precise, bottom-up chemical assembly of molecules into geometric structures composed of many molecules, e.g. in the 1nm to 100nm range.
In other words, nanotechnology allows them to dispense with expensive, difficult to manufacture elements of traditional solar cells. What remains is easy to produce using thin-film technology.
Even the normally staid Economist is excited by the news. "The technology exists to enable a radical overhaul of the way in which energy is generated, distributed and consumed – an overhaul whose impact on the energy industry could match the internet's impact on communications." Now that is a future we can aspire to.

[email this story]
Posted by Robert Ouellette on 11/07
Comment Here
(0)
11 06
Honda Civic Hybrid: Making A Difference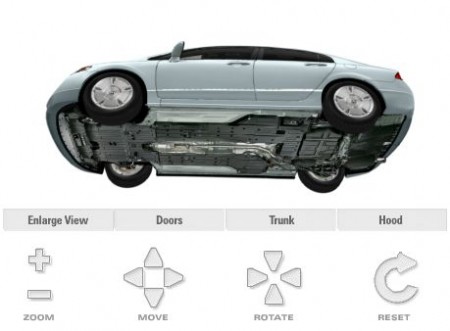 Maybe I feel the need to write a story on hybrid cars because a well-to-do family I know recently bought a Hummer, Their rationalization was the usual one: to help protect their kids. Sigh. Or maybe it is the recent surge of news about the environment or how the north american auto industry - once the world's great economic engine - is just about officially dead. Whatever the motivation, Honda's new hybrid Civic almost makes me believe that big automotive companies can get it right . This is what the Honda site says about the hybrid:

The 2007 Civic Hybrid: Smokin' Style, Fresher Air
Directly descended from the Honda CVCC, which was the first car to pass the Clean Air Act emissions requirement without a catalyst, the 2007 Civic Hybrid wows with a futuristic shape and high-tech features. Today's Civic Hybrid represents the very latest in our commitment to positive environmental change.

You'll feel the benefits of the refined gasoline-electric powertrain on the Civic Hybrid right there in your wallet at fill-up time. And with an EPA city/highway rating of 49/51 mpg,* you won't have to stop for quite a while.The air also benefits with the Advanced Technology Partial Zero-Emission Vehicle (AT-PZEV) rating, which is the most stringent emissions standard achieved by a gasoline-powered vehicle in the U.S. And mile after mile, you get to enjoy the thoroughly modern style, comfort and convenience of a Honda Civic. The Civic Hybrid is living proof that environmentalism and style can go hand in hand.
Those MPG ratings are in U.S. gallons. This is a seriously fuel-efficient car.
Along with this car Honda is promoting its green "Environmentology" campaign. Take a look at this site. Honda wins the best CEO quote of the decade award with this from their former President and CEO, Hiroyuki Yoshiro. "By the year 2010, Honda wants to be . . . a company that all people . . . from all over the world will want to exist."
Can we say that about north american auto producers? Not as they exist today but companies can and do change when faced with consumers who demand better products.
[email this story]
Posted by Robert Ouellette on 11/06
Comment Here
(2)