11 24
Child Labourers Experience Systemic Violence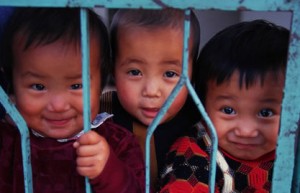 Think back to being eight years old. No, really. Think back.
Close your eyes, shut your ears and travel into a memory: you and your best friend toboggoning down a snow-covered hill; you, seated in your desk at school, sharpening your HB to a point so you could poke the kid beside you; the smell of rain on hot concrete; what it feels like to nail a cannonball; the taste of cookie batter, licked straight off a wooden spoon; tears, excitement, sheer joy, fear.
What would we be like without those memories? Modern childhood in the developed world is a time of carefree discovery for most. Children feel safe and loved, so they're free to explore the world around them with an innocence and wonder that can never be recaptured. My memories give me a safe place to retreat to when I'm sad, scared, frustrated or hurt. I can recapture that feeling of safety, and it grounds me.
This past Monday, the
United Nations International Labour Organization
published a report that outlined the systemic violence committed against child labourers. Many of the world's 218 million child labourers are physically, verbally and emotionally abused every day. Children who work to help feed their family, because they have no family, or are forced to as part of their family's debt bondage are not innocent, but helpless.
What will happen to them when they grow up? Where will they go to escape? Without those memories of innocence, discovery and excitement, what will they think of this world?
A child without a childhood has nothing to strive for, because they don't know how good life can be. What is there for them to hope for and work towards? Developing countries need their children to grow up into healthy, productive, passionate people--they represent hope for the future. Child labour doesn't only jeopardize the lives of the milllions of children involved, but the lives of whole communities, and the future of countries.
[email this story]
Posted by Stacey Bowman on 11/24
Comment Here
(0)