10 30
3.1 Billion Pounds of Exhaust To Bury 1.5 Billion Pounds Of Solid Waste
Dump image from York University's Environmental Studies web site
Mayoralty candidates Stephen LeDrew, Rod Muir, and Jane Pitfield joined the Alphabet City Trash Festival crew Saturday night at the MaRS Centre on College Street to discuss the city's garbage crisis (Mayor Miller declined the invitation to attend). In spite of what many people in our city seem to think about political candidates in general, those people who came to listen and ask questions found that the three performed well - they had ideas that might even work to reduce our city's ecological footprint.
While researching my preamble to the evening's discussion - I moderated the event - it occurred to me that the real cost in environmental impact terms of shipping tons of garbage hundreds of kilometers was never made public. I wanted to know how much air pollution a truck creates when carrying one ton of cargo one kilometer. With that information in hand it would be easy to determine how much invisible damage our NIMBYism was inflicting on the environment.
According to a study sighted by the Victoria Transit Policy Institute, in 2002 transport trucks produced on average 12.7 pounds of pollution emissions per ton per mile (or roughly 8 pounds per kilometer).
The Michigan dump site is about 260 miles from Toronto or 418 kilometers.
In 2005 we sent 86 trucks a day 365 days of the year to Michigan. They carried a total of 750,000 tons of Toronto garbage. That is 1.5 billion pounds of solid waste.
So, let's do the math. For the sake of fairness, we will reduce the pollution generated on the empty return trip to Toronto to one-quarter. To do that we will say the trucks travelled only 100 kilometers on the way back.
Total trip length 418 + 100 = 518 kilometers
Total pollution per kilometer = 8 pounds
Total Tons shipped = 750,000
Then 518 x 8 x 750,000 = 3,108,000,000 pounds of tailpipe pollution.
There it is folks. To move 1.5 billion pounds of garbage so we don't have to face our local responsibilities for waste reduction and management, we create at minimum 3.1 billion pounds of "Invisible" waste not to mention the other physical problems having those trucks on the roads produces (this does not factor in the pollution created by the truck drivers in turn driving to their jobs, manufacturing the trucks, producing diesel fuel, etc.,). The purchase of a new dump in Ontario reduces the amount of pollution but is still unconscionable. Toronto has to deal with its local waste issues locally.
To the panelists' credit, that was their position. Each offered different approaches. Given Rod Muir's experience as founder of Waste Diversion Toronto, it was not surprising that he had probably the best practical solutions to reducing Toronto's waste. Jane Pitfield was a close second given her long experience on City Council and as Chair of the Works Committee, she knew the issues from the perspective of an involved politician. Stephen LeDrew was a contender in spirit but seemed - and this is from the awkward perspective of the moderator who cannot be as objective as an audience member - passionate about the issue but not as informed.
Incineration, or more accurately gasification, was discussed and all three agreed that it could be used if, and only if, pollutants we rigorously controlled. Rod Muir was least in favour of the option saying only 5% of the city's waste need be dealt with this way. Still, when faced with the fact of how much air pollution we generate trucking garbage to Michigan, it is hard to imagine (...read more...)
[email this story]
Posted by Robert Ouellette on 10/30
Comment Here
(0)
10 27
Wind Energy Financing Makes A Breakthrough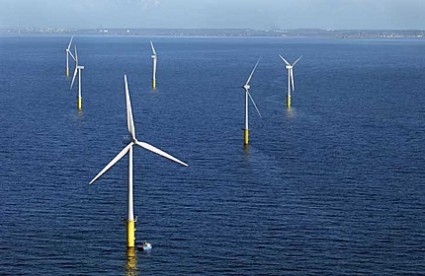 Image from www.dailkos.com of the North Hoyle wind turbine installation.
Corporate Knights editor Toby Heaps' story this issue on green power in Ontario got me thinking about how antiquated methods of project financing are a major barrier to the wider development of sustainable energy sources. So I did some research on who in the international financial community is leading the way in green energy project financing. This announcement is about the first non-recourse financing for off-shore wind farms in the industry:

EUR 379 M Facilities for the construction and operation of an offshore wind farm

ROTTERDAM/UTRECHT, 25 October 2006 - Cooperatieve Centrale Raiffeisen Boerenleenbank B.A. (Rabobank) and Dexia Credit Local (Dexia) as Mandated Lead Arrangers, and Eksport Kredit Fonden (EKF), as export credit agency, have closed on 25 October 2006 the financing for the construction and operation of the Q7 windfarm, a 120 MW offshore wind park, comprising 60 Vestas V-80 wind turbine generators, located off the Dutch coast near IJmuiden. This financing is believed to be the first ever non recourse financing for an offshore wind farm.
Ontario and Canada's potential for these kinds of wind projects is virtually limitless as long as we have the financing on the front end and an adequate distribution network on the back end. The Dutch financing is a breakthrough and will no doubt become a reference standard for green financing in the future. If, as Toby writes, Canadian investors like the Canada Pension Plan Investment Board are indeed looking for large, green infrastructure projects, they will reference Rabobank, Dexia, and EKF's move as an indication that institutional funds are moving in the right direction.
[email this story]
Posted by Robert Ouellette on 10/27
Comment Here
(0)
10 26
Smart Cars and Bicycles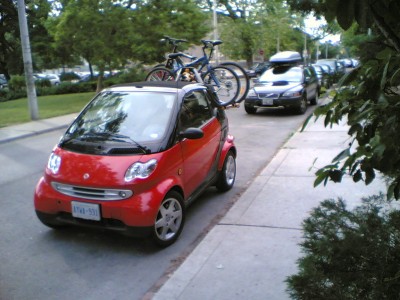 OK. The owners of this Smart Car in Toronto's Riverdale district deserve some kind of award for their dedication to leaving a small footprint behind. We had to chuckle a bit when we saw this - the bikes are as big as the car. But this combination of energy efficiency is like a white dwarf: Small but incredibly powerful.
With 100 MPG for the car and about 750 calories each per hour for the bikes, a quick calculation suggests that this combo can displace about six or seven normal cars. Not bad really. It's economical too.
[email this story]
Posted by Robert Ouellette on 10/26
Comment Here
(0)
10 25
Offsetting Your Company's Carbon Footprint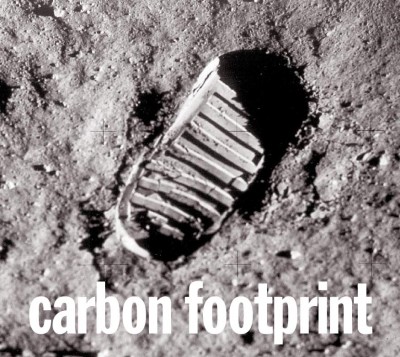 In the latest issue of our magazine Peter Diplaros took a look at six companies that can help you offset your company's carbon emissions. Need to know more? Take a look at the following:
http://www.cleanairpass.com
Cleanairpass allows motorists to offset their car's carbon footprint based on mileage. You get some nice stickers too.
http://www.offsetter.ca
Use PayPal to buy your friends a carbon offset… no, really! You can even buy offsets for the flights you plan on taking. Who needs a guilty conscience?
http://www.self.org
This unique site brings solar power and modern communications to villages in the developing world.
http://www.econeutral.com
Econeutral branding, the site claims, increases a company's brand value by letting its customers know it cares about the environment. Good idea.
http://www.carbonneutral.com
This company will carry out emission assessments and identifies offset alternatives that reduce local emissions.
http://www.bullfrogpower.com
Bullfrog Power sells green electric power. You buy your power from the grid as usual but Bullfrog generates a matching amount for th egrid from green sources like hydro and wind power.
[email this story]
Posted by Robert Ouellette on 10/25
Comment Here
(0)