07 18
CKF Film Friday No. 6: Al Gore Predicts The Future
In case you didn't watch or hear about Al Gore's challenge to citizens of the Untied States yesterday, our film Friday brings it to you in its entirety. What is Gore's challenge? He wants the U.S. to generate all its electricity from carbon-free sources by 2020. Quite a challenge, but achievable through existing technologies now that oil is over $50 a barrel. Will his desired audience listen? If the comments on YouTube—where the video is posted—are an indication, we are at about 50/50 yes and no.
Here are some of my favourites:

The Chinese have forged a deal with Cuban leader Fidel Castro to explore and tap into massive oil reserves almost within sight of Key West, Florida. At the same time, Venezuelan President Hugo Chavez, who controls the largest oil reserves in the Western Hemisphere, is making deals to sell his country?s oil to China, oil that is currently coming to the United States.

This person's answer is to invade Cuba and piss off the Chinese—not very good strategy for a host of rather obvious reasons.
Another was more thoughtful, even startling, but their conclusion takes a nasty turn for Gore:

What it takes to make ethanol:

It takes about 600 pounds, or about 10 bushels of either Wheat, or Corn to fill a 25 gallon tank of gas.

You would get about 3 tanks of gas per acre with Wheat and about 9 tanks of gas per acre with Corn.

What it takes in grain to fill up an SUV one time, could feed a person for up to a year.

How large a carbon foot print is crated to grow and harvest an acre of Wheat or Corn?

Starving people all over the world thank you Obama and Al Gore.
Then there are the inevitable arguments over the validity of global warming:

We must remember that it is the TREND that matters. Any given year might be warmer or cooler than any other, especially within eight years. Let's consider that global warming has raised average temperatures a degree or two, therefore we are not necessarily going to feel it yet, but more sensitive environments, especially those in the polar regions - due to global heat distribution - are warming faster. Just as NASA, NOAA, or any truly credible foundation will tell you, the trends do not lie.

My favourite piece of paranoia makes references to the movie "There Will Be Blood's" long straw metaphor:

Absolutely, and I know in 50 years we will be. I will be dead by then, so I'm worried about today. Its upsetting Honda just came out with a hydrogen fuel cell car, I constantly hear, "see, we don't need to drill". Fact is, that car will not be into production for 10 more years. How many more years after that before electric power plants are running on hydrogen fuel cells? China is right now 30 mile out from our border horizontally drilling the oil we are not allowed to.
If you follow this person's line of thought the Chines will soon be beating the U.S. over the head with a bowling pin.
Enough of the commentary: here is the Nobel Prize winner speaking for himself. Enjoy.
[email this story]
Posted by Robert Ouellette on 07/18
Comment Here
(0)
07 11
New York TImes: American Energy Policy Asleep At Spigot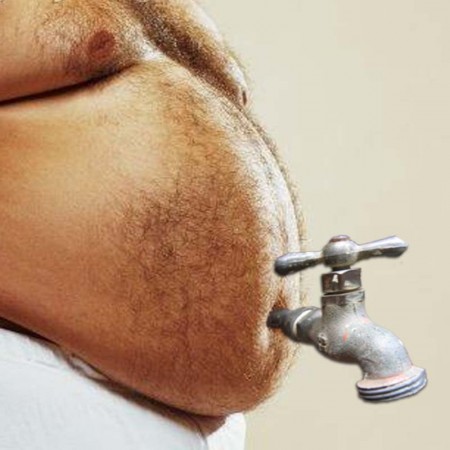 Nelson Schwartz of the New York TImes takes aim at America's glutinous consumer class and the country's politicians in a critique of the country's energy policy.:

Even as politicians heatedly debate opening new regions to drilling, corralling energy speculators, or starting an Apollo-like effort to find renewable energy supplies, analysts say the real source of the problem is closer to home. In fact, it's parked in our driveways.

Nearly 70 percent of the 21 million barrels of oil the United States consumes every day goes for transportation, with the bulk of that burned by individual drivers, according to the National Commission on Energy Policy, a bipartisan research group that advises Congress.

So despite the fierce debate over what's behind the recent spike in prices, no one differs on what's really responsible for all that underlying demand here for black gold: the automobile, fueled not only by gasoline but also by Americans' famous propensity for voracious consumption.
While everybody knew that the 8 cylinder, gas-guzzling proclivity of the buying public was just not sustainable, turning off all that profit was not going to happen. Instead auto companies and their government enablers poured billions into a model that was never going to bring the North American auto industry the competitive success it wanted.
[email this story]
Posted by Robert Ouellette on 07/11
Comment Here
(0)
07 02
Why You Should Care About Your CO2 Emissions
If you are a polar bear or a penguin, the news so far this year is not good. First, this summer may be the first time in recorded history that the Arctic's polar ice cap melts. Not concerned about something so far away from your downtown condo? Don't be too smug. These kinds of environmental changes will impact you no matter where you may live—you drink water, don't you? Watch this video and you may be convinced high gas prices are a good thing if they keep another Hummer off the road.
Then there is the Antarctic. In a recent academic study from Australia, researchers speculate that a massive rise in the oceans' water levels could be just a few years away:

Dr Bradley Opdyke, a paleoceanographer from the Australia National University (ANU) believes the West Antarctic Ice Sheet (WAIS) could partially collapse within 20 years, resulting in a dramatic jump in sea levels.

His talk on glacial cycles and the WAIS was presented earlier this month at the Imagining the real: life on a greenhouse earth conference held in Canberra.

"The 900-pound gorilla hiding in the closet is Antarctica. We have evidence that it is not a stable beast," Opdyke says.

He says the WAIS is inherently unstable, and the current rate of sea level rise is placing it at risk.

"It is pinned on the spines of a few mountains, with ice sheets draped off them," Opdyke says. "If sea level rise unpins these sheets, it is plausible that there will be dramatic ice collapse in the West Antarctic."
Opdyke goes on to say that such a collapse could take place in weeks rather than decades. Now, aren't you glad you support the local Sierra Club and your family has reduced its carbon emissions? What about your business? Is it part of the old economy—you know, the one that measures success by the amount of polar ice it melts—or is it embracing the future of green?
[email this story]
Posted by Robert Ouellette on 07/02
Comment Here
(2)