06 20
CKF Film Friday No. 4: Something Different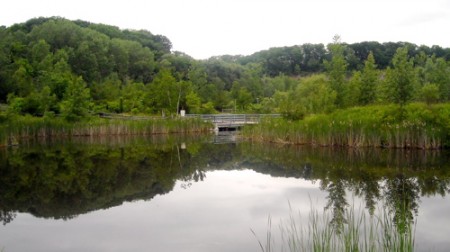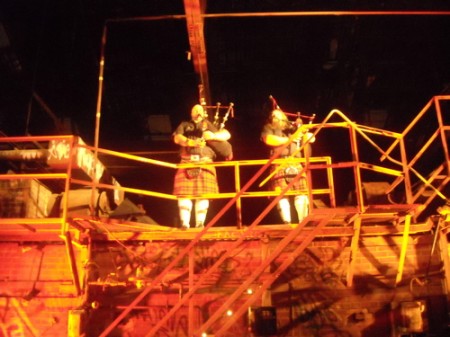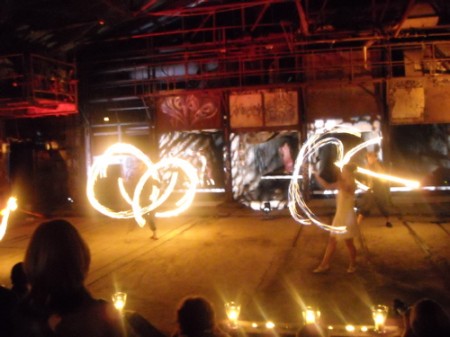 We are offering something different. Today's FIlm Friday is brought to you by the Evergreen Brick Works. Evergreen is not just a variety of tree, its a grass-roots movement dedicated to making cities sustainable through the entwined forces of "Community, Culture, and Nature."
Evergreen Executive Director Geoff Cape describes it this way: "Our philosophical basis is to move society through a value change that comes with interacting with nature in a fundamentally different way."
Last night the not-for-profit organization threw a 500 person $500 a plate fundraising dinner and party on the Brick Works property near downtown Toronto. The bucolic former brick quarry was painstakingly transformed into a series of cultural moments—think passion play here but not for religion, for sustainability. The still photos included here convey something of the experience.
Jamie Kennedy, a tenant of Brick Works and one of the city's great chefs, created the evening's meal which turned out to be more than worthy of the cause.
And if you imagine the modern eco-warrior to be cast in the Paul Watson mold, well, you've missed the revolution. Today's environmentalists include affluent people who are happy to donate time and money, lots of money, to a great cause. Making the Brick Works a reality is apparently at the top of their list.
Interested? Here are some films about the Brickworks including a brief clip of last night's performance.
[email this story]
Posted by Robert Ouellette on 06/20
Comment Here
(1)
06 13
CKF Film Friday No. 3
Dr. Patrick Dixon's guide to the future… What, me worry?
[email this story]
Posted by Robert Ouellette on 06/13
Comment Here
(1)
06 12
Coal Power Lives On—People Pay
The head of Ontario's opposition, Bob Runciman, released a report this week making some startling claims. When Premier Dalton McGuinty took office he promised that Ontario's reliance on coal generated power would end by 2007. One year later and it turns out not only are we still using coal, but as many as 9,500 Ontarians die each year from smog-related illnesses. If that figure were going down rather than up, we'd think that changes were being made for the better. In fact, smog-related deaths have gone up from 1,900 per year in 2003. "There are now more smog days per year in Ontario than in the entire eight years before the 2003," claims a report released by the Ontario Conservative Party (you know you've gone into some perverse alternate universe when the Ontario Torys are trying to lead the fight against pollution here).
To add insult to injury, Torontonians now have their very own power plant on the waterfront—something considered unimaginable ten years ago but now an almost belching fact. What is going on? Has anyone vetted these figures? Is there truth in what the Conservatives are claiming?
With a more positive spin to the story,
http://www.modeshift.org
writes:
Though Premier McGuinty succeeded in 2005 in closing the Lakeview coal-fired plant in Mississauga – and demolishing it with explosives on June 28, 2007 — he missed the 2007 deadline for the other four. Last month, as another electrion approached, he announced in Toronto that wouldn't happen again. His government just approved a regulation that requires all of the province's coal-powered generating stations to close by 2014. "There is only one place in the world that is phasing out coal-fired generation and we're doing that right here in Ontario," he said.
From the Conservative report:
The following list shows smog related deaths by census district for 2008:

Algoma - 130

Brant - 108

Bruce - 68

Cochrane - 70

Dufferin - 37

Durham - 381

Elgin - 71

Essex - 317

Frontenac - 107

Grey - 83

Haldimand-Norfolk - 99

Haliburton - 18

Halton - 336

Hamilton-Wentworth - 445

Hastings - 103

Huron - 60

Kenora - 34

Kent - 100

Lambton - 125

Lanark - 48

Leeds-Grenville - 80

Lennox and Addington - 31

Manitoulin - 14

Middlesex - 348

Muskoka - 54

Niagara - 425

Nipissing - 67

Northumberland - 81

Ottawa-Carleton - 503

Oxford - 93

Parry Sound - 41

Peel - 700

Perth - 66

Peterborough - 119

Prescott and Russell - 49

Prince Edward - 25

Rainy River - 14

Renfrew - 76

Simcoe - 299

Stormount, Dundas, Glengarry - 86

Sudbury District - 118

Sudbury Regional/Municipality - 20

Thunder Bay - 122

Timiskaming - 32

Toronto - 2,130

Victoria - 69

Waterloo - 348

Wellington - 158

York - 590

Provincial total: 9,500
[email this story]
Posted by Robert Ouellette on 06/12
Comment Here
(0)
06 10
Absurd Green Architecture In Dubai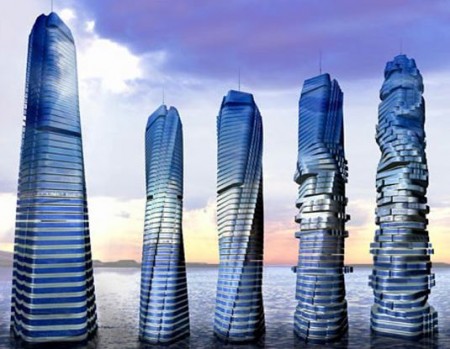 Building in Dubai will always challenge the idea of sustainability because of the extreme temperatures and lack of water in the region. In spite of that reality, capital generated by $139 a barrel oil is making it possible for architects to try radically new, untested technologies in designs that attempt to generate more energy than they consume and in doing so achieve something that could be called sustainability.
So it is with Italian architect David Fisher's design for the green environmental tower in Dubai. Named the "Dynamic Architecture" building, the sixty storey tower is also a power source. Forty-eight 0.3 megawatt turbines are contained within its rotating floors. Fisher writes, "Considering that Dubai gets 4,000 wind hours annually, the turbines incorporated into the building can generate 1,200,000 kilowatt-hour of energy."
The architect describes three technologies that the project relies on for its success. First is the ability for architecture to be dynamic, to constantly change its form. Second, is the integration of power-generating technologies that let the building generate more power than its inhabitants consume. Third, is the factory-based construction that will reduce the number of site workers, speed construction time, and improve the final finish quality.
Take a look at this rather pretentious video for an explanation of the tower. What's my take on it? Before I was an architect I followed a Buckminster Fuller inspired career path working in aircraft manufacturing for the de Havilland Aircraft Company. I've seen the technologies required to make this work from both sides of the technology spectrum, and odds are that this building will fail to meet its objectives. That does not mean it is an unworthy experiment. Inventing new ways of sustainable living will not be easy or cheap; however, we have little choice but to try and if it takes $139 oil to get us there so be it.
[email this story]
Posted by Robert Ouellette on 06/10
Comment Here
(0)
06 06
CKF Film Friday No. 2
Film Friday number 2 is here and the impressive TED Conference offers the lead today. Al Gore is back with a new slide show first shown at TED in March. Did you know that in 2005 we put the equivalent weight of 1.2 billion elephants in CO2 emissions into the atmosphere? I didn't. Gore's idea of a "Cultural Distraction" is sobering. "We have the capacity at moments of great challenge to set aside the causes of distraction and rise tot he challenge that history is presenting to us."
[email this story]
Posted by Robert Ouellette on 06/06
Comment Here
(0)
05 26
Mars Landings: Do They Make Us Greener?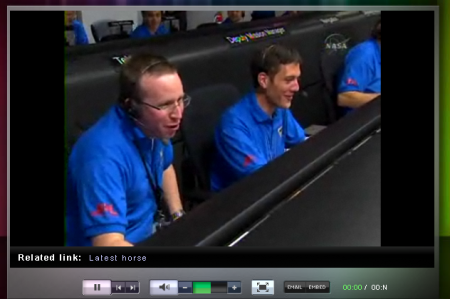 NASA employees celebrate the Phoenix Explorer landing Sunday.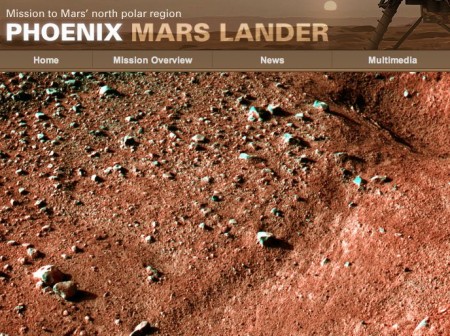 Yesterday's NASA Phoenix Project Mars landing was a scientific and technological spectacle in the great tradition of the moon program. There are many reasons to engage in this kind of research and I won't go into them here. I will say though that if I had a choice of spending $500 million dollars to possibly find life on other planets and further our understanding of the universe, or fund three more days occupying Iraq, the Phoenix Program gets my vote.
The Futurist Buckminster Fuller argued from the perspective of the Sixties that the space program allowed us to do more with less—an essential tactic in a world where resources are becoming scarce. I'd like to adopt his argument. Programs like this one and other space related, non-military research allow us to amplify our knowledge in so many ways. We would not know, for example, the full impact of global warming and threats from pollution without satellite-based information gathering systems.
Still, we do know that the endless striving for better technologies is not an end in itself. We have to use the tools and knowledge this research supplies to make positive environmental change happen. Without that as an end game we will only be left with one reason to continue these space missions: to escape an Earth that can no longer sustain us. Forget that!
People and nations are on the verge of a green renaissance. Wind power, solar cells, electric cars are an integral part of that rebirth of a more human centred economy. All these technologies owe their start to the space program.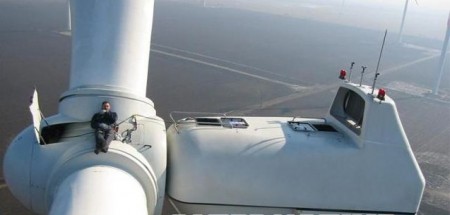 [email this story]
Posted by Robert Ouellette on 05/26
Comment Here
(0)